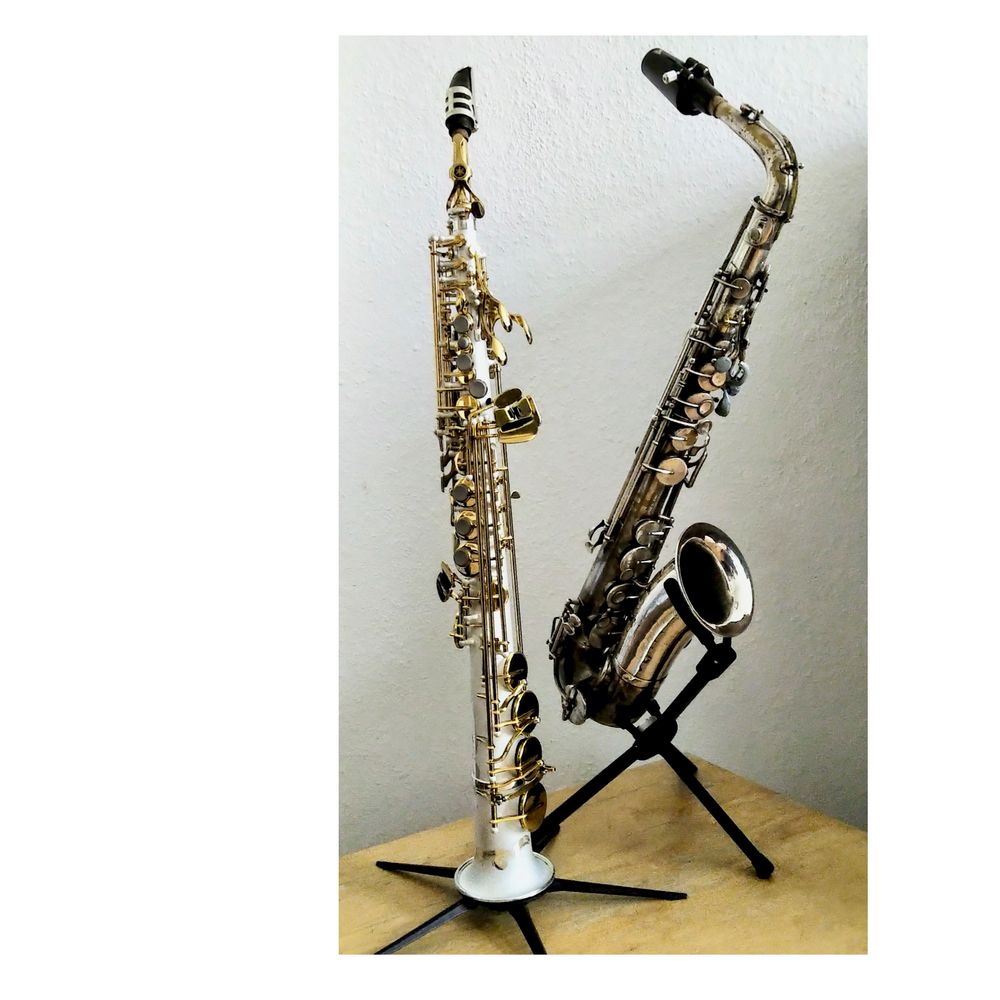 My Instruments
Saxophones
ADOLPHE SAX Alto Saxophone
# 41118, built in Paris. ca. 1881 by Adolphe Sax, Selmer Soloist "E" mouthpiece refaced by Frank Wells, Vandoren V16 reeds #2.
YAMAHA 675 low A Soprano Saxophone
Prototype, developed and customized by Music Medic®, SR technologies "Legend" hard rubber mouthpiece, Vandoren reeds #2,5.
ADDITIONAL SAXOPHONES FOR PERFORMACES FROM PRIVATE COLLECTIONS
COUESNON "Perrin Model" low A - High G Alto Saxophone
# 9625, ca. 1952 Monopole Series II, two-tone finish.
BUESCHER "Aristocrat" C Soprano
 #281106, ca. 1937, custom made.
LYRICON I
#77233 ca. 1977
This instrument was purchased by saxophonist and producer Quitman Dennis from its inventor Bill Bernardi on November 15, 1977, along with all original schematics and blueprints. Quitman Dennis began his musical career as a saxophonist and flutist in Nashville before moving to California in 1968 and touring with artists including Bobby Darin, B.B. King, Etta James, Jackson Browne, Dolly Parton (Great Balls of Fire) and Joan Armatrading.  This Lyricon was first played by him at the legendary British festival The Picnic at Blackbushe Aerodrome in 1978 with Armatrading's band in front of 200,000 people - opening for Bob Dylan's band and following Eric Clapton.  This LYRICON can be heard on LPs such as "To the Limit" (Joan Armatrading), Mariya Takeuchi's Beginning and David Loggins album David Loggins.
After Dennis used it until the turn of the century, he had the instrument restored in 2020 by Boston engineer David O'Brien, who has exclusive access to all original Computone equipment, drawings, documents, and spare parts, and learned to build and repair Lyricons over many years from Bill Bernardi.  It was used for a year by Los Angeles saxophonist and producer Sam Gendel, from whom I acquired it in the spring of 2021.